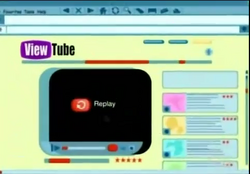 Since the gang's trip to a popular water park was cancelled due to massive storms in Bloo Tube, Mac decided to use Frankie's camera and use it to making videos after being inspired by watching a video of a "funny" monkey. They watched the video on a website called ViewTube which in reality is a parody of the popular video sharing site Youtube. ViewTube's only appearance was in the episode Bloo Tube.
Known Videos
The Funny Bunny song, sung by Mr. Herriman in World Wide Wabbit was seen on ViewTube and was number nine on the most viewed list.
Ad blocker interference detected!
Wikia is a free-to-use site that makes money from advertising. We have a modified experience for viewers using ad blockers

Wikia is not accessible if you've made further modifications. Remove the custom ad blocker rule(s) and the page will load as expected.