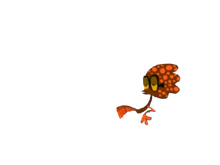 A brown imaginary friend with orange spots and glasses
He was in the arcade in the pilot episode.
In the trouble with scribbles, he was one of the friend to catch scribbles. Later in the episode, a scribble helps him change the channels on his tv He tells the scribble "Next." whenever he wants the scribble to change the channel.