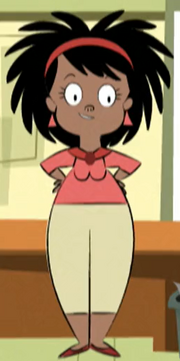 Mac's Teacher is a minor character and the teacher at Mac's school. She's usually seen anytime Mac is seen at school.
Appearance
Mac's teacher is of African-American descent. She has black hair, orange shirt and shoes, and tan-colored pants.
Episode Appearances
Trivia
She only appears in 3 episodes.
Her appearance in Emancipation Complication is very different than her previous appearances. While in "Bloo's Brothers" and "One False Movie" she was a calm teacher with a slight sense of humor, she appears as very aggressive and mean in Emancipation Complication.
She's referenced on African-American actress Niketa Calame or Yvette Nicole Brown.
She appears to dislike Imaginary Friends in Emancipation Complication, while in previous episodes she seemed to like them.
Other than Goo she's the only other character of Color see in the show.
She is not present on the seasons 5 and 6.
Ad blocker interference detected!
Wikia is a free-to-use site that makes money from advertising. We have a modified experience for viewers using ad blockers

Wikia is not accessible if you've made further modifications. Remove the custom ad blocker rule(s) and the page will load as expected.