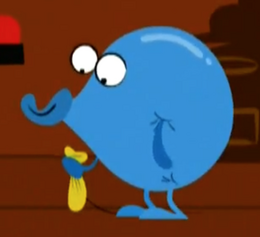 Harold is a balloon imaginary friend that first appeared in "Store Wars".
Biography
In "Store Wars", the imaginary friends were decorating the house for Madame Foster's birthday party. Harold blew up a balloon, and in the process deflated himself. Wilt thanked him for his help.
Appearance
Harold is a walking blue balloon with big white eyes. The mouth of the balloon appropriately serves as his own mouth.
Gallery