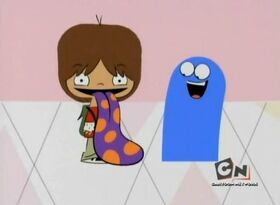 Pokadoted Tongue Mac, is a imaginary friend made to look like Mac, created by Goo and only shown in Bus the Two of Us. He was only shown briefly and does not speak other than showing his tongue.
History
When Frankie asks Wilt if he could look after Coco and Mr. Herriman while goes to pick up her friend Kathie in the bus, Wilt doesn't know what to say. Just then Goo enters through the door with both Mac and Bloo, Wilt is relieve as he thinks that they finally returned back with the bus and tells Frankie that he'll look after the house.
However just as she goes upstairs to change he clothes, the phone rings and Wilt answers it to be Mac saying that they are going to be delayed for a few more minutes. Wilt is surprise and turns toward the other two and finds out that they are just some of Goo's imaginary friends that she thought of.