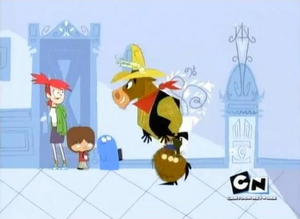 'Cowboy Cow is an Imaginary Friend that stays at Foster's Home for Imaginary Friends. He is a steer that walks upright and wears clothing like a human cowboy: hat (with holes for his horns to fit through), shirt, vest, bandana around his neck, pants, chaps and a pistol in his belt. He also appears to have human-like hands and feet, as the hands are tucked into his pants and the boots are the type that would fit human feet rather than a foot with a hoof.
Ad blocker interference detected!
Wikia is a free-to-use site that makes money from advertising. We have a modified experience for viewers using ad blockers

Wikia is not accessible if you've made further modifications. Remove the custom ad blocker rule(s) and the page will load as expected.