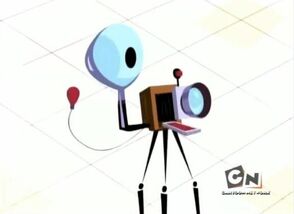 Camery is a character in the episode of Foster's Home For Imaginary Friends called "The Big Picture". He's an imaginary friend film camera with a flashbulb for an eye and apparent instant photo developing/processing. Because he has a tripod, he can walk around. Camery was upset because Mr. Herriman wouldn't let him be in the yearly Foster's photograph with all the other friends. He tried to use his timer to allow himself to run back and join the group, but forgot that since he is the camera, he can't photograph himself.
Camery and "Wally"
When questioned by Bloo and Mac about the Where's Waldo-esque imaginary friend Wally, who was constantly pulling pranks in every photo, Camery says he hates Wally but offers little help to the mystery of the missing characters in the old photo because Mr. Herriman drags him away before he can explain what happened.
Finally Allowed in the Picture
When Mr. Herriman gets a mirror-like imaginary friend to stand straight across from Camery in the photograph, Camery (or at least his reflection), is finally able to be in the picture, but Bloo pulls a string under the grand staircase that makes the whole thing collapse so that Camery can only photograph Frankie and Madame Foster.
Similar Imaginary Friends
Camery is very similar to
Camcordy
, another imaginary friend film camera in the episode "
One False Movie
". Both Camcordy and Camery have similar names, tripods that function as working legs and similar voices. Both Camcordy and Camery are exploited unfairly by other friends in the house as well. Camcordy also looks similar to the non-imaginary friend old-fashioned home movie camera belonging to Mr. Herriman that was seen in "
World Wide Wabbit
" when Herriman tries to record Mac and Bloo to get revenge.