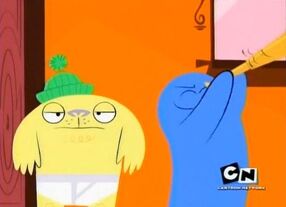 Bingo is a yellow dog imaginary friend who wears a pair of underwear briefs and a green hat.
Cuckoo for Coco Cards
Destination Imagination
When Frankie was carrying lots of bags filled with groceries, she asked for one of the friends to help her out. She drops an apple, and asks Bingo for help. Bingo simply shoves the apple into her mouth instead and walks on.
When the time came for when Frankie promised the next time she will make her rarely offered French Toast breakfast, Bingo lamented being hungry and not getting French Toast.